Inergy Mind Spa Centers Testimonials
Clive Lawrence - StressLess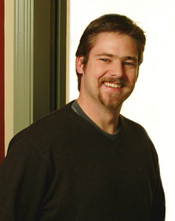 "My biggest reward, though, is that my home life has improved... my wife can't believe my progress and growth."
View Video Clip (requires Flash 7 Player)
We all have good days and bad days. For Clive Lawrence of Kamloops, BC, his bad days seemed to plague him. He felt like he was bottoming out and his loop of negative self-talk was getting worse. Read more about how he's made a complete transformation:
I knew something had to change when I realized that my 4-year old son was giving me tips on how to deal with my anger. He used to say things like, "Daddy, count to 10…" after which I would snap at him. This was not the way I wanted to continue parenting, let alone behaving. Fortunately, my wife was bold enough to hand me a flyer for Inergy one day when I came home from work. She didn't have to say a thing, she just kindly gave it to me and I went to find out more. Up to this point I had been so stressed, not being able to cope with my everyday work and home life. My mechanism in the past has always been to blow up. I had waves of negativity and frustration, and a lack of knowing, "what's my next step?" When I met Rene for the first time at my evaluation, I liked everything I heard. He explained how the StressLess Living program would benefit me. It not only made sense, I believed it. By the end of my appointment, I knew this was what I needed… I was ready to go. It didn't take long for me to start noticing changes. And by the end of the program, I have made a 180-degree turn in my perspective. My experience at Inergy has been such a huge and positive intervention. I find myself becoming more engaged with my son. I no longer raise my voice with him and I'm more in control. Even my coworkers have commented on the improvements I've made, and most of these individuals, admittedly, I treated pretty badly in the past. My biggest reward, though, is that my home life has improved and I no longer see fear in my son. My wife can't believe my progress and growth. She has been so overwhelmed and touched. We're both blessed to have a newborn daughter and I am so grateful that I'm the dad and person that I am today. I invite everyone to "come with me" on this journey of self-improvement. I have truly appreciated the unwavering and unquestioning support of the Inergy Team, the thoughtfulness of the plan, and the delivery of the program. What a rewarding sense of accomplishment! Thanks, Inergy.
Clive Lawrence
Kamloops, BC